Accredited Online Course for Parents- 2 CEUs
Simply Me - Empowering Parents to Empower Children
(ages 4-8 / 8-12 / 12-16)
Continue Your Education with our Accredited Online Course for Parents, Consultants, Educational counselors & Psychologists.
Why an online course?
No need to leave home!
No need for a babysitter!
No need to worry about parking!
You can sit in your pajamas and slippers
with a cup of coffee anywhere, anytime,
and simply have fun learning!
Start now and study at your own pace:
All courses are self-paced so you can learn at your convenience –
morning, afternoon, evening, night.
No need to be online at a specific time!
A great tool box of educational materials:
Games
Stories
Questionnaires
Studies
Exercises
Innovative theory, and more…
Innovative and original theory presented through:
Video clips
Lectures
Presentations
Resources & reading materials
3 workbooks of exercises, games and activities, age-appropriate for:

4-6 year olds
8-12 year olds
12-16 year olds

Interactive questionnaires
Simply Me Bonuses, as part of the course
Evaluate your progress:
Assess your learning progress with the following:
Course Discussion Forum
Multiple-Choice Questionnaire
Final Paper
Receive grades and feedback on your performance.
Sessions
CEUs
Tuition
Opening Date
9
2
$259 (with CEUs)
$229 (without CEUs)
Start Now!
Course Description:
Dear parents,
We all see our children struggling, suffering, angry, or hurt and we don't know how to help them:
Identify what they are good at.
Love themselves.
Improve their social skills.
Overcome boredom.
Cope with disappointment and failure.
Solve problems effectively.
Think outside the box and find creative solutions.
These are some of the issues we address in the online course for parents:
Simply Me - Empowering Parents to Empower Children
So how can we help our children to succeed, feel fulfilled and motivated with a sense of purpose?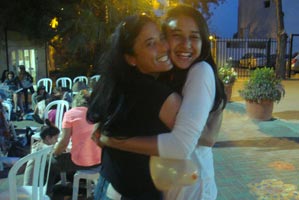 The answer is very simple:
We need to believe in our children, Because if we don't believe in them, no one else will!
But first and foremost we need to believe in ourselves —as parents and as human beings!
First, we must identify what empowers us, ourselves, and then pass on this knowledge to our children!
And this is exactly what we will do in this course!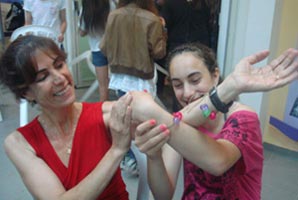 This course provides you, the parents, with tools for your personal empowerment through games, exercises, stories, activities, questioners and innovative theory.
Once you have experienced the program firsthand, you will receive training on how to independently impart these tools to your children (ages 4-8 / 8-12 / 12-16) based on the Simply Me Model:
6 simple and easy to implement Keys that will reveal the secret of how to build character and raise self-confident children: children who know how to be Simply Me!
Course Introduction:
Click here to read the introduction (for ages 4-8 / ages 8-12 / ages 12-16)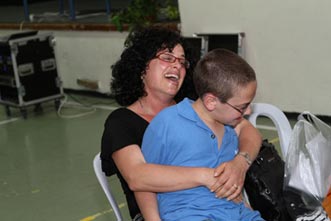 Yes, I would like to register now!
Become an influential, meaningful and empowering figure in the lives of your children!
Course Learning Outcomes:
During the course we're going to learn:
How to become an influential, significant and empowering figure in the lives of our children, through games, exercises, stories, questionnaires, quizzes and innovative theory!
What is self-esteem, and why is it so important to implement it in our children's lives?
How to cope with the difficult task of making changes.
How to identify and examine all the areas of our children's lives that they are performing well in, and those areas they need to improve- and how to do it.
What are strong points? Why is it so important to identify them and how this is related to dealing with social problems and raising motivation?
What are personal values, passions and desires, why is it so important to identify them and how to do it?
6 techniques for exercising our children's thinking muscle to think positively instead of negatively.
How to listen to what our children's body whispers to them and how to recognize and trust their intuition.
How body language and charisma affects our children's lives.
How the environment can pull our children up or push them down and what can be done to help them shape their environment so that it pulls them up.
How to cope with failure, roll up our children's sleeves and start taking action.
And most of all –how to teach our children to believe in themselves and love who they are and what they do‒ in short, how to be Simply Me!
Lots of action and fun ‒ so let's get started!
Yes, I would like to register now!
Enrich yourselves with original games, exercises, stories, questionnaires, quizzes, studies and theory.
How you and your children will benefit from this course
You will:
Gain insight from the tasks, games and discussions to empower and raise your children's self-esteem.
Strengthen the parent-child bond during quality time with your children: an hour of fun, love and enjoyment!
Have the opportunity to hear firsthand what bothers your children…and nip it in the bud before it's too late!
Learn how to listen to what is said and to what is not said!
Find out what your children love and what they are good at!
Empower yourself and become a better parent!
Teach your children to believe in themselves and be Simply Me!
Children who feel good with themselves will also feel good in their environment, and these are the kind of children we want to raise.
Something amazing happens when children are happy and self-confident: they are able to effectively cope with and overcome difficulties in their lives!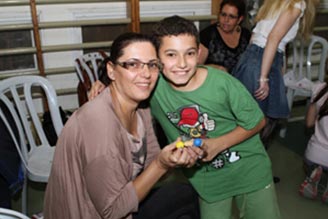 Yes, I would like to register now!
Course Sessions:
Introduction:
Session 1:
Finding the Sparkle in the Eye

Key 1- The Key to Identification:
Session 2:
In which areas of life are your children happy, and in which areas are they "stuck"? What can you/they do about it?

Key 2 - The Key to the Inner Core:
Session 3:
What are my strong points?
Session 4:
What are my personal values and dreams
Key 3 - The Key to the Power of Thought:
Session 5:
Exercising our Thinking Muscles
Key 4 - The Key to Body Talk:
Session 6:
Intuition, gut feelings and physical sensations

Key 5 - The Key to the Environment:
Session 7:
How to shape our environment, so that it pulls us up, not push us down?

Key 6 - The Key to Taking Action:
Session 8:
How to roll up our sleeves and simply start to act?
Summary
Session 9:
The WOW Session - The Cherry on the Cake
Course Bonuses:
At the end of each session you receive:
3 workbooks of exercises, games and activities, age-appropriate for:


4-6 year olds
8-12 year olds
12-16 year olds

The Secrets of Children's Self-Esteem– a special eBook which reveals the 15 most common mistakes parents make while trying to improve their children's self-esteem and self-image!
Course Resources and Reading Materials
This course is based on the following Books, written by Dr. Orly Katz, Which is the Co-Founder of the Simply Me Academy.
All Books are available for purchase on Amazon:
Surviving Primary School series (Vol.1-4) / Dr. Orly Katz, for children aged 8-12.

Surviving Junior High series (Vol.1-4) / Dr. Orly Katz, for children aged 12-16.

Busy Dizzy / Dr. Orly Katz, for children aged 4-8.
Course Assignments:
Answer and submit a questionnaire at the end of each session.
Active participation in the Course Discussion Forum.
Submit a final paper.
Yes, I would like to register now!
Testimonials:
Former British Ambassador to Israel, Matthew Gould:
"To wonderful Dr. Orly Katz!
You have no idea how happy I am that in my search for an online course, I miraculously found yours!
You are a great instructor, candid and pleasant, and you make so much sense. My only regret is that I didn't discover you when my children were young.
But it's never too late to learn! Thank you!" ".
Zippora Biton
"The course gave me a much deeper understanding of child development and empowerment!"
Yevgenia Levi
"I really enjoyed the course, learned a ton, and had great experiences. I also received helpful and empowering tools for working both with my students and my own children."
Osnat Geva
"This is the first time I had the guts to take an online course! But so far, I am managing and enjoying every minute. I'm learning a lot of new things and I especially enjoy your stories about your own personal challenges with your own children. They are certainly encouraging and empowering. Thanks so much."
Judith Dayan
"I loved it! The sessions are very professional, yet informal and relaxed, and I always learned something new that motivated me to take action. I talked to my children about the course, brought them on board, and we really enjoyed working together on the various topics."
Tami Hameir
"It's an interesting and enriching course that provides excellent tools for working with children and strengthening their self-esteem and communication skills. I recommend it for all parents and educators."
Iris Temankin Manor
"The course is very important for parents and especially for teachers and facilitators. I gained many tools that will serve me well in the future and which I will pass on to my children. Thank you so much for a great course!"
Dina Reichman Shternberg
"I benefited from the transparency of the course and learned a lot about myself, my children, and how important and empowering it is to be there for them and really listen to them. Unfortunately, in our busy lives we overlook a lot of issues and consequently make mistakes. The course taught me how to get out, and stay out, of that situation by looking ahead and making the right choices.
As John Lennon said: 'Life is what happens while you are busy making other plans.'"
Avivit Shalom Grossman
Yes, I would like to register now!
F.A.Q.s about the course:
Click Here
100% Satisfaction Guarantee:
We invite you to sign up to our online courses and try out our first session.
If for any reason during the first session you are not 100% satisfied,
notify us by email before you receive the second session,
and we will refund you the full amount you paid.
Join the Simply Me family and together we will make a difference!